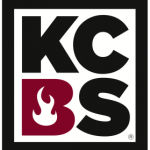 Becoming a KCBS Master Judge.
By: Camiel Berkers MCBJ
In 2014 I became a CBJ in Hasselt Belgium. Fortunately the US KCBS-IOTeam was there to train us.(Wayne & Maria Lohman, William & Debby Gage and 'sidekick' Byron Chism (butt-rub) who happened to be at the competition and helped out with inside info and prepping the practice boxes). After a long day of information, practice and the official oat, I became an official KCBS Certified Barbecue Judge (CBJ).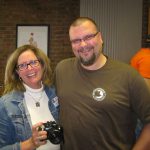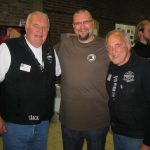 Later that weekend I also grabbed the change to attend to the Certified Table Captain (CTC) course which I also completed.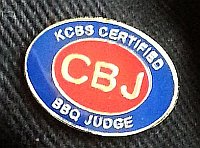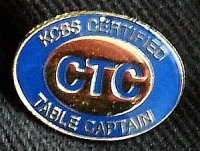 11 May 2014 was the big day, as a rookie CBJ/CTC, I judged my first KCBS competition at the Beer, Fries and BBQ competition, Hasselt, Belgium. I was hooked! Had a great time, met lots of new people, all with the same interest and passion. A lot of them are still active KCBS judges so every competition it is kind of a reunion.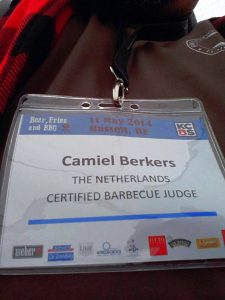 Within that year, I started a competition team together my barbecue friends and fellow judges Ceriel Schuirink and Rene de Regt, just to gain experience, as a judge, in how it works "on the other side". At first it was just a one time intention. Our goal, competing in one KCBS cook-off and do not become last in the overall scoring. During the BBQ society cook-off 2015, we got a "warm bath" from the other competitors and achieved our goal. That's why we maintain the team beterwordthetniet-bbq (freely translated: "it does not get any better – bbq").
In 2017, becoming a KCBS Master Certified Barbecue Judge came in reach. I planned, rescheduled our Summer Holidays and signed up to the required remaining competitions. It was a very busy time as we also competed with my own team.
In order to become a MCBJ you first have to meet 5 criteria in order to be able to apply for an online MCBJ test.
You must collect 30 credits on your CBJ Contest Verification Form, which is basically 30 signatures from a Rep.
At least 1, but not more than 10 credits must be a volunteer job other than judging.
You also must be a KCBS member.
You have to cook with a KCBS competition team (at a competition that you're not judging) , preferable after approx. 15x judging.
And last but not least, you'll need a Master Judge Team Verification Form completed by the Head Cook of the team you joined (point 4)
24 September 2017, at the 4th Ruhrpott BBQ Competition, I judged and completed collecting the 30 credits. Together with US-KCBS-rep. Don Harwell I read the oat in front of all judges and had a blast (as always) judging 6 categories.
Back home I applied for the online MCBJ test, which was granted a few days later. Meanwhile I started studying the CBJ manual, Rep advisory guide and online CBJ Continuing Education program. You must pass the online MCBJ test with a 90% score or higher. In other words, you need to answer at least 45 out of the 50 questions correctly. I had a great support of CBJ Coordinator, Glenna Powell.
30 September 2017 I passed the MCBJ test with a score of 98% (49/50) and thereby became the 6th Master judge of Europe. ( 3th in the Netherlands and 1st one in Europe who also has its own KCBS competition team!)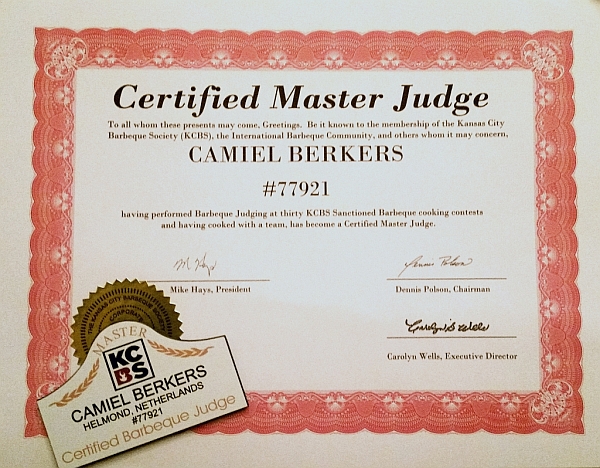 I'm looking forward to judge many more to come KCBS contest as a Master judge.
KCBS Master judges Europe
At this moment the EU Master judges are:
Stephan Mehrer (NL)                               . . Jun. 2016
Thomas Neumann (GE)                          20 Apr. 2017
Petra Rebenstorf (NL)                            03 May 2017
Roger Anderson (UK)                             09 May 2017
Roman Schellartz (GE)                           05 Jun. 2017
Camiel Berkers (NL)                                30 Sept 2017
Debbie van Rooijen (NL)                       04 Oct. 2017
Dirk Sundermann (GE)                           11 Oct. 2017
Monika Sundermann (GE)                    11 Oct. 2017
Desiree Freeke (NL)                                23 Oct. 2017
And there will be many more to come in Europe next year(s)!
Warm regards,
Camiel Berkers, MCBJ #77921